INTRODUCTION
Welcome to the Paul Murphy Memorial Scholarship fund. Paul joined the Buffalo Niagara Convention Center and served as Director of Sales from 1993-1999. He returned to the Center in 2001 as General Manager, a position he held until his passing on December 27, 2020. Paul was a staunch advocate for tourism and hospitality in Buffalo. One of Paul's last wishes was to establish a scholarship to help a graduating senior pursue a degree in hospitality. The scholarship has been established by the Murphy family in conjunction with Visit Buffalo Niagara and the Buffalo Niagara Convention Center.
Paul is survived by his wife Kim, daughters; Natalie, Tara, and Ella, in addition to his three brothers, Matthew, John, and Patrick Murphy, and three sisters, Jean Murphy, Barbara DeSimone, and Diane Revelas. Paul was preceded in death by his parents, Matthew, and Lucille, in addition to two siblings, Marilyn and Mark.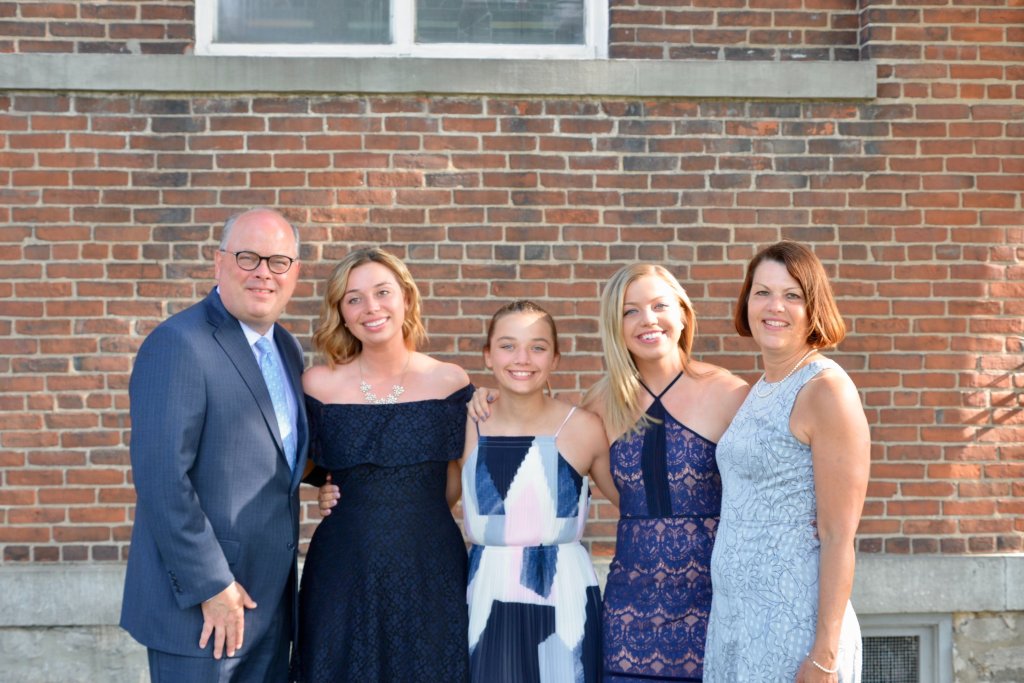 DONATION INFORMATION
If you would like to make a gift by mail, please send a check made payable to the:
Paul Murphy Scholarship Fund,
c/o Visit Buffalo Niagara Foundation,
403 Main St., Suite 630
Buffalo, NY 14203
SCHOLARSHIP INFORMATION
Congratulations to the 2022 Scholarship Recipients. Details for the 2023 Application process will be posted at a later date.
FIRST SCHOLARSHIP RECIPIENTS
Buffalo School of the Culinary Arts & Hospitality Management
– Ryan Dowell
– Antonio Hernandez III
– Anessa Jones
– Aline Niyonzima
– (4) $500 Scholarships
Maryvale High School
– Gabby Petrizzo, Valedictorian
– $5000 Scholarship
BACKGROUND
Paul was born and raised in Lockport, New York. He graduated from DeSales Catholic High School in 1981. He was the proud son of the late Lucille and Matthew Murphy, the NYS assemblyman. His father, who was the first chairman of the Committee on Tourism, guided the development of much of the state's tourism infrastructure. Inspired by his father, Paul has followed in his footsteps.
Paul earned an Associate Degree in Hotel Management from SUNY Delhi and a Bachelor of Science in Hospitality Science from Florida International University.
Paul Murphy started his impressive hospitality career, earning his first job right out of college when he was only 21 years old at the iconic Waldorf Astoria Hotel in New York City. Paul went on to hold several distinguished positions in the hospitality industry in New York City and throughout Western New York culminating in his twenty-year role as General Manager of the Buffalo Niagara Convention Center. His unique and natural ability to ensure that everyone who walked through the Convention Center doors felt appreciated and important was so evident – whether it be with his girls and their friends at the Charity Ball or World's Largest Disco, government and community leaders at official functions and fundraising galas; or the public at events such as the Auto and Home Shows, the Turkey Trot and First Night.
Even with a busy and demanding career he thrived on, Paul always put family first. He so enjoyed every opportunity he had to spend quality time with his wife of 31 years, Kim, and daughters, Natalie, Tara, and Ella, along with his big extended family and many special friends. Paul passed away peacefully at home with his wife and daughters by his side after a four-month battle with an extremely aggressive bile duct cancer.
LEGACY
Paul's humility, warm enthusiasm, and joy for life touched everyone he encountered. He was kind, humble, and genuinely compassionate. Paul always ensured that all those around him were welcome and comfortable. He treated each person he knew with the same level of respect, care, and support. This is among the many reasons his family and friends considered him to be one of their favorite people.
Paul was a true ambassador for the City of Buffalo and instilled in all his valued colleagues a deep sense of pride in their contributions to the region's revitalization, irrespective of their titles. Paul was humbled to receive recent recognition with Mayor Byron Brown's Executive Chamber Proclamation declaring September 25, 2020, his 57th birthday, as Paul Murphy Day in the City of Buffalo. On January 7, 2021, Paul was honored by the Erie County Legislature with a moment of silence and a memorial proclamation that commemorates the moment.
Paul's family and friends are likewise honored by the statements from Erie County Executive Mark Polancarz, "Paul's staunch advocacy for Buffalo and belief in Western New York infused and energized his work while his great attention to detail made him a terrific team partner and planner, with a dry sense of humor and warm manner that put people at ease and made working with him a joy. Paul will be greatly missed, and our thoughts and condolences go along with our prayers to his wife, Kim, and his family."
Visit Buffalo Niagara President Patrick Kaler stated, "In thinking about Paul, I'm struck by the affection people had for him," he said. "Yes, Paul was the consummate professional whose passionate attention to the little things was the driving force behind all the stellar reviews the center received from meeting planners and convention attendees year after year. But it was Paul's sweet and steady disposition that really endeared him to our customers. In a very stressful business with lots of moving parts and pressure to perform, Paul was a soothing and reassuring presence — and our customers loved him for it."
OBITUARY/ARTICLES