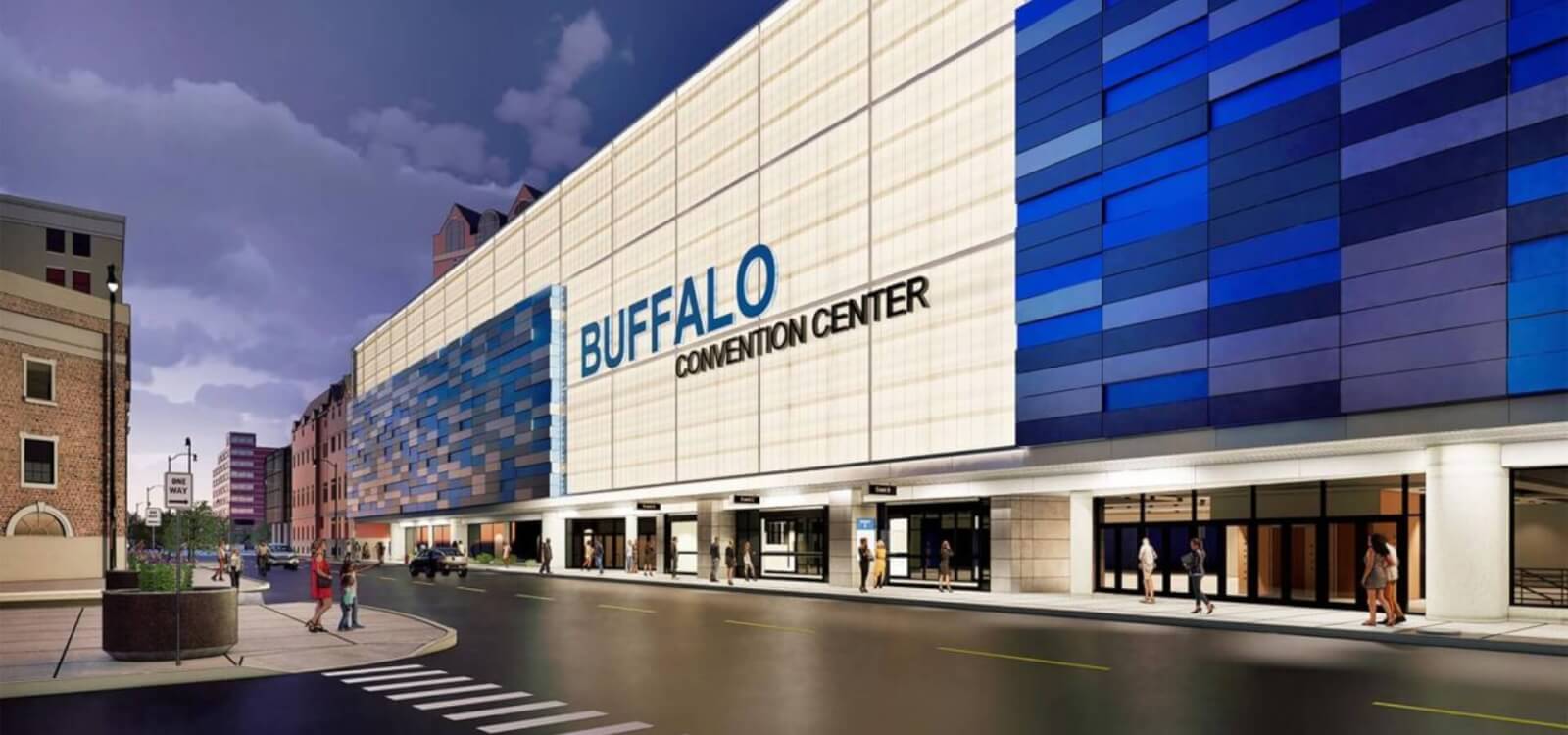 ABOUT THE

BUFFALO

CONVENTION CENTER
learn more about us
The Buffalo Convention Center is the premier meeting and exhibit facility in Western New York. We can host large gatherings of up to 7,000 and can also accommodate small, intimate groups. Our unique space allows us to create the perfect space to suit your needs.
The Buffalo Convention Center has over 110,000 square feet of flexible meeting/exhibit space.
Soaring ceilings add volume to the 64,000 square feet of contiguous exhibit space, which accommodates general session setups and up to 350 exhibit booths. This space may be sectioned into two halls with easy access to the loading docks. Four covered loading docks and direct drive-in access to each hall make setup easy and efficient.
The Convention Center's Ballroom spans 12,367 square feet with banquet seating for up to 1,000 guests. Pre-function areas extend the Ballroom space by 8,800 square feet. More than 46,000 square feet of flexible meeting space (21 meeting rooms) feature wireless and hardline capability in every meeting area.
Dedicated Convention Center staff totaling over 100+ years of industry service
Buffalo cares! stay safe pledge
Visit Buffalo Niagara (VBN) is working with Erie County's hospitality and tourism organizations, communicating a shared commitment to safety in accordance with guidelines and protocols set forth by the Center for Disease Control, the New York State and Erie County Departments of Health, and guidelines and protocols as set forth by our respective industries.
The Buffalo Cares: Stay Safe Pledge is a shared commitment to take necessary precautions for everyone to stay safe while following recommended health guidelines. Visit the VBN website to learn more about the pledge and the businesses participating.
frequently asked questions
WHAT SIZE EVENTS CAN YOU ACCOMMODATE?
With 110,000 square feet of flexible meeting space, we can accommodate meetings and events of 10 to 7,000; the exhibit hall can hold 350 10'x10′ booths. Please refer to our capacity chart for additional information. Click here to view our Floorplan
HOW CAN I BOOK AN EVENT AT THE CENTER?
Please contact one of our sales managers at (716) 855-5555 or info@buffaloconvention.com, and we will gladly follow up with you in a timely manner.
HOW CAN I BECOME AN EXHIBITOR AT THE CONVENTION CENTER?
If you are interested in becoming an exhibitor at an upcoming event, you will need to contact the association or event organizer. Please go to our Event Listing and click on the group you are interested in for additional information.
DOES THE CONVENTION CENTER HOST WEDDINGS?
Yes! We can accommodate weddings of 75 to 800 people. Our Ballroom is available for weddings with a minimum of 150 people, and we have smaller rooms available for a more intimate reception. Contact our catering manager for more details.
DO YOU HAVE WIRELESS INTERNET?
Yes, the Convention Center recently underwent a $500,000 technology upgrade that included the installation of wireless throughout the facility in addition to hardline connections in every meeting room, exhibit hall, and select locations in the lobby. WiFi service is complimentary in the lobby. Contact your Convention Service manager to review your specific needs.
WHO CATERS THE FOOD AND BEVERAGE FOR MY EVENT?
The Buffalo Convention Center prepares all food and beverage on-site, including banquets and concessions. We use the freshest ingredients and will work with you to create a menu tailored to your event and budget. Outside food and beverage are not allowed.
WHEN IS SECURITY REQUIRED FOR AN EVENT?
When scheduled to be open, the Buffalo Convention Center provides two staff members to monitor the front lobby (Information Desk) and the back loading dock (Timekeeper's office). This personnel is not security guards. The Center is not responsible for individual leased areas. The client may be required to provide security in the loading dock areas, emergency exits, meeting rooms, exhibition hall, or the registration area from the time of initial move-in until the completion of move-out. Security requirements will be determined by the Convention Center's event manager for all Public Shows, Trade Shows, Conventions, Banquets, Performances, and Special Events.
WHERE CAN I FIND VISITOR INFORMATION IF TRAVELING TO BUFFALO?
Visit Buffalo Niagara can provide you with complete information and travel planning resources. You can contact them by phone at 1-888-2BUFFNY or at www.visitbuffaloniagara.com